If a trailer is in an accident, is vandalized, or is stolen, you can register an insurance case with us. You will then be charged a self-risk fee and have the damage/trailer repaired or compensated.
The insurance does not cover ordinary wear and tear, such as tires, lights, brakes, etc.
You must register the insurance case within 6 months of the accident. From the time of a complete registration with all the requiarments we will repair the trailer within 30 days.
What we need:
1. Pictures of the damaged parts
2. A signed insurance form from the customer. It varies from country to country but you can find it in T4 when making the registration or by contacting the local transport administration.
3. If the trailer is stolen you dont need any of the above but we need the issue-number from the police.
Self-risk-fees
C350 high trailer - 2500SEK
All other trailers 1500SEK
Stolen trailer - 3000SEK
If the customer is unknown the self-risk-fee is double, and you must be able to prove that there is no way to find out who is responsible.
How to register an insurance case, when not using t4
Go to this link; https://www.brenderuprental.com/se/var-helhetslosning/garanti-och-forsakring/skadeanmalan
Click on Online registration and fill in the form, dont forget to add the pictures and copy of the signed form.
How to register an insurance case in t4
Go to you bookings page, right klick on the trailer and click on "register a damage"

Then choose if its stolen or damaged

Fill in the form and save, don't forget to click on the button that makes it an insurance case and not just a note for the station.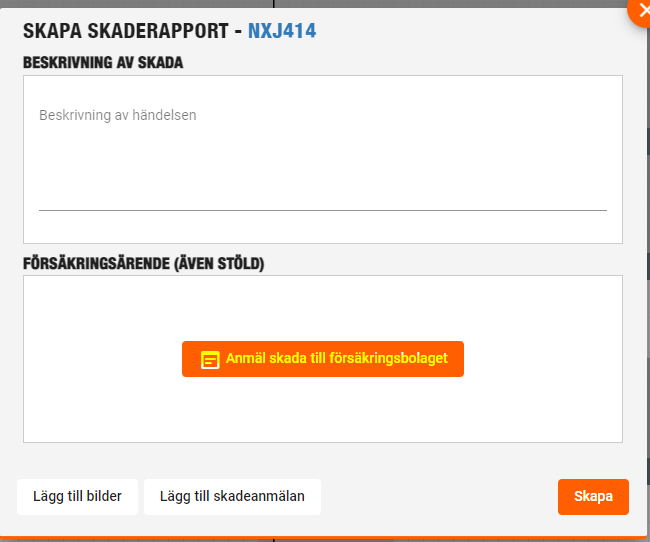 Amd again, don't forget to add the pictures and the signed insurance form, we can not repair or do anything if the errand is not complete.